Anschutz and Strivers Gymnasts Strike Gold at Nationals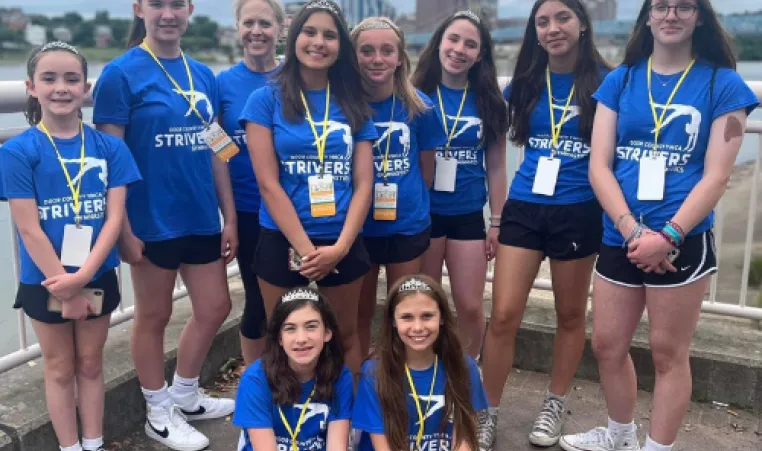 Sturgeon Bay, WI - Level 6 Door County YMCA Striver gymnast, Amira Anschutz tumbled, flipped, and swung her way to four YMCA National first place titles at the 2023 YMCA Gymnastic National Championships held this past weekend in Cincinnati, Ohio. The competition took place at the Duke Energy Convention Center. Anschutz earned gold on floor, vault, beam and the All-Around. The Striver Gymnastic Team had nine girls competing in three different levels this past weekend. The Striver Team made their presence known in Cincinnati, Ohio winning four National Titles, 18 individual medals and two top ten Team Banners.
The Striver Level 6 Team tumbled to a seventh place Team finish earning them a National top ten banner. There were a total of 25 Level 6 Teams competing. The event awards banners to the top 10 Teams competing at Nationals. Level 6 Team results are tallied by the team's top three scores on each event. The Striver Team had three of their original five teammates compete. Placing in the top ten as a team with three competitors is quite an achievement, there was no room for error.  Amira Anschutz led the 6's by winning gold on floor (9.6), vault (9.150) beam (9.325) and All Around (36.975). All routines are scored out of a possible 10.0. Amira earned a fifth-place medal on the bars (8.90). Estelle Duerst made the podium with a silver medal on floor (9.7) a fourth on vault (9.0) and All Around (36.350). Portia Hah rounded out the Level 6 team by placing third on floor (9.3) and beam (9.05).  Estelle Duerst competed in the child division, Amira Anschutz in the junior division, and Portia Hah in the senior division.
The Striver Platinum Team earned a 10th place National banner. There was a total of 33 Platinum Teams that competed in the Championships.  Amelia Zoschke, Alexa Jimenez-Seyfer, Ann Gallardo-Ibarra, and Shaylyn Asher made up the Platinum team for the Strivers. Medaling in the top six were Zoschke with a sixth on beam (8.4) and All Around (35.00). Alexa Jimenez won a sixth-place medal on floor (9.2) and tied with Zoschke on beam (8.4).  Anna Gallardo-Ibarra earned a fourth-place medal on floor (9.25). Shaylyn Asher placed in the top ten on bars placing eighth. Zoschke, Jimenez-Seyfer, and Asher competed in the child division while Gallardo-Ibarra competed in the senior division.
The Striver Silver team had two girls out of their squad of six competing. Lauren Gaida and Keira Clark made the journey for the Striver Silver Team. Gaida earned fourth on floor (9.35) and seventh on bars (36.95)
The Striver Team had one gymnast, Amira Anschutz who placed in the top five on every event. Amira won four golds and a 5th place. Three Striver gymnasts placed in the top ten on every event, they were Estelle Duerst, Portia Hah and Amelia Zoschke. Anna Gallardo-Ibarra placed in the top seven in four events while teammate Keira Clark placed in the top 15 in every event.
The team returned to Door County with 4 National Titles, 18 individual medals and two top ten National Team Banners. The Team is coached by Nikki Pollman, Gerritt DeJonge, and Heather Haese.
The Door County YMCA: For Youth Development, Healthy Living and Social Responsibility. Driven by its founding mission, the Door County YMCA has 160 full and part-time staff serving over 9,991 members in Door County from facilities in Fish Creek and Sturgeon Bay in a broad range of programming for all ages. The Y empowers everyone, no matter who they are or where they're from, by ensuring access to resources, relationships, and opportunities for all to learn, grow and thrive. By bringing together people from different backgrounds, perspectives, and generations, the Y's goal is to improve overall health and well-being, ignite youth empowerment and demonstrate the importance of connections in and across 10,000 communities nationwide.