Community Welcomes Back Healthy Living Fair and Halloween Parties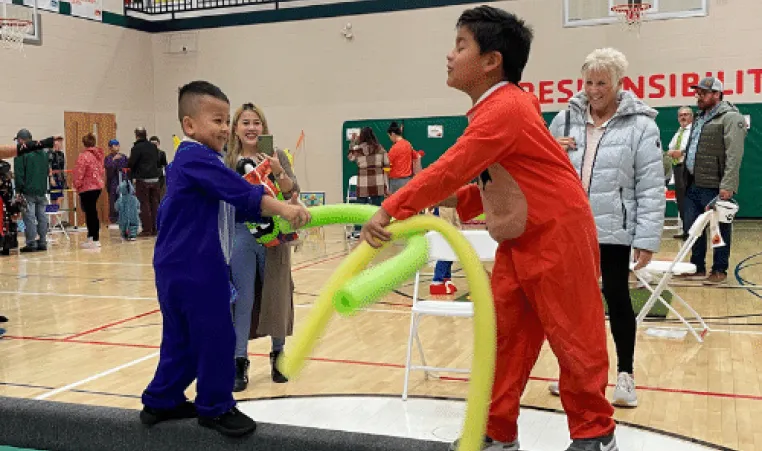 Impact, by definition, means to have a strong effect on someone or something. Last week the Door County YMCA had a significant impact within the Door County community. 
After several years of not being able to host in-person events due to the prolonged severity of the Covid-19 pandemic, the Door County Y brought back two wonderfully impactful in-person community events.
On Tuesday, October 25, the Y hosted its Annual Healthy Living Fair where over 175 individuals were connected with over 30 vendors who support health and wellness in our community. This free community event, sponsored by Door County Medical Center, offered free skin cancer screening, cholesterol screening, and a flu vaccine clinic.
Senior Director of Healthy Living Mary Claire McHugh said, "We haven't been able to hold this event in person since October of 2019, it was really great to be able to bring this event back and have an opportunity to connect with people. It was fun to watch our attendees connecting with friends they haven't seen in a while. This event is more than physical health and wellness, it's truly about connecting people to the community services and each other." 
Later that week on October 28, the Y also brought back the highly anticipated Family Halloween Party at both the Northern Door and Sturgeon Bay centers. Over 400 families attended these ghoulish events. Kids had the opportunity to play a variety of games winning a bounty of candy and other Halloween treasures. They also played gaga ball and bounced the night away in bounce houses.
Northern Door Y Healthy Living Coordinator Mae Daniels, said, "This was my first time working with this event and it was awesome to see all of these families come out to enjoy a safe and fun Halloween tradition. The excitement on the kiddos faces was contagious!" Dori Meyer, Preschool and Family Coordinator in Sturgeon Bay added, "This is such a great event for families and we're so happy to be able to do it for our community."  
Tyler Powell, Door County YMCA Program and Innovation Executive agreed: "These community events are really fun and are also a great way for our community to come together. We're incredibly thankful for our nearly 50 volunteers who helped us with these huge events, we couldn't do it without their support."
Everyday we're proud of the impact the Door County Y has in this community. We're for Youth Development, Healthy Living and Social Responsibility.

The Door County YMCA: For Youth Development, Healthy Living and Social Responsibility. Driven by its founding mission, the Door County YMCA has 150 full and part-time staff serving over 8,800 members in Door County from facilities in Fish Creek and Sturgeon Bay in a broad range of programming for all ages. The Y empowers everyone, no matter who they are or where they're from, by ensuring access to resources, relationships and opportunities for all to learn, grow and thrive. By bringing together people from different backgrounds, perspectives, and generations, the Y's goal is to improve overall health and well-being, ignite youth empowerment and demonstrate the importance of connections in and across 10,000 communities nationwide.