DCY Swim Team Continues String of Success at State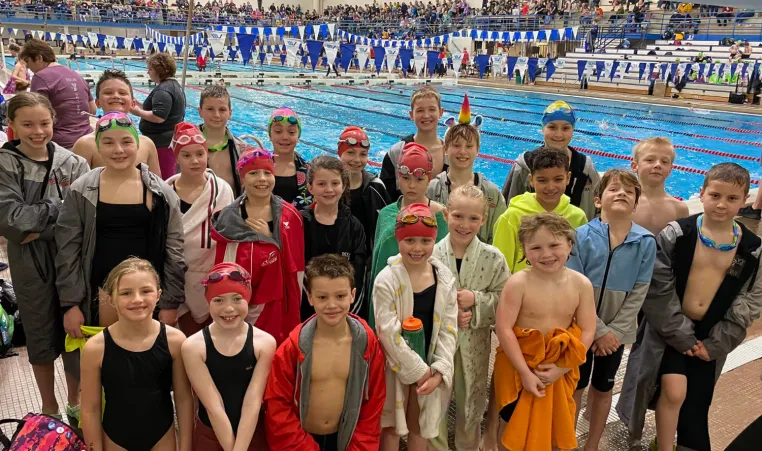 Over the past weekend, The Door County YMCA Swim Team competed in the State Championship
held in Brown Deer, Milwaukee. We had a total of 62 swimmers qualify for the State meet out of 140
swimmers on team. Each swimmer must meet a time standard to be eligible to swim at the meet and
are able to swim in up to 5 events. Our DCY Team placed 4th out of 22 teams, with us being the smallest team to place in the top 4. Our youngest age group is our strongest age group, bringing home quite a few medals.
Two DCY Swimmers - Christy Braun and Jacob Norton - will represent the Door County Y at the 2022
Short Course YMCA National Swimming Championship March 28 - April 1, 2022 at the Greensboro
Aquatic Center in Greensboro, NC.
Results
First place Swimmers and Medley
Boys 11-12 yr 200 Medley – Xander Helm, Thomas Kratcha, Kemal Wienke, Max Schmelzer
Nadia Kurek - 25 Back
Jack Monfils - 400IM
Daylia Sund - 100 Breast, 50 Breast
Kemal Wienke - 50 fly
Second place Swimmers and Medley
Girls 800 Free – Cassie Rankin, Danica Neville, Sanya Wienke, Rialey Anderson
Boys 9 yr. and 10yr Free and Medley – Odin Deviley, Reese Sund, Aiden Schley, Beau Schley
Thomas Kratcha - 100 Breast
Nadia Kurek - 50 Free, 25 Free, 25 Fly
Zofia Michalski - 100IM
Jack Monfils - 200 Breast
Landon Reinhardt - 25 Breast, 25 Back, 25 Free
Beau Schley - 50 Free
Reese Sund - 50 Breast, 100 Breast
Third place Swimmers and Medley
Christy Braun - 200 Breast
Boys 8 & under Free – Emmett Christianson, Landon Reinhardt, Ryan Kratcha, Lincoln Roberts
Julia Michalski - 100 Breast, 200IM
Zofia Michalski - 50 Breast
Jacob Norton - 100 Breast
Aiden Schley - 50 Free, 50 Fly
DCY Swim Team Alumnus Notes
Max McHugh, former DCY standout now at the University of Minnesota, will be swimming at the NCAA Division 1 Championship this weekend in Atlanta, Georgia for the Golden Gophers. McHugh is the defending NCAA champion in both the 100 breast and 200 breast.
The Door County YMCA: For Youth Development, Healthy Living and Social Responsibility. Driven by
its founding mission, the Door County YMCA has 150 full and part-time staff serving over 7,000
members in Door County from facilities in Fish Creek and Sturgeon Bay in a broad range of
programming for all ages. The Y empowers everyone, no matter who they are or where they're from,
by ensuring access to resources, relationships and opportunities for all to learn, grow and thrive. By
bringing together people from different backgrounds, perspectives, and generations, the Y's goal is to
improve overall health and well-being, ignite youth empowerment and demonstrate the importance of
connections in and across 10,000 communities nationwide.