DCY Swim Team Dives into Season with Midnight Swim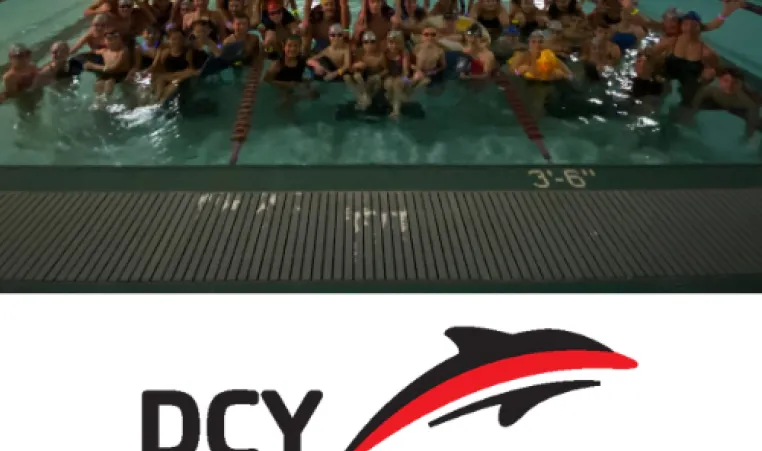 Sturgeon Bay, October 30 — The DCY Swim Team, renowned for its commitment to excellence in competitive swimming, made a splash as they hosted their "Midnight Swim" event to kick off their highly-anticipated 2023-2024 season. Held at the Door County YMCA Carla and Ellsworth Aquatic Center the event showcased the team's dedication, camaraderie, and unwavering enthusiasm to conquer the waters.
The "Midnight Swim" brought together 60 athletes and coaches to celebrate the beginning of the competitive season, creating an electric atmosphere brimming with excitement. This year the team will have a total of 140 swimmers for our association.
The event included relay races, games, and a movie in the pool. The DCY swimmers showcased their skills and determination through thrilling relay races. Each relay brought forth the intensity, spirit, and camaraderie that define the team. The team is excited about a bus trip to the Schroeder Fall Invite in Milwaukee in a few weeks, and a meet in Texas for the older swimmers later in the season.
DCY Swim Team Head Coach, Mike McHugh, expressed their excitement about the season ahead: "The 'Midnight Swim' was a perfect way to begin our season. We witnessed incredible talent and team spirit, which will drive us to achieve new heights in the upcoming meets. I am proud of the dedication and hard work our swimmers have put into their training."
With the "Midnight Swim" event, the DCY Swim Team set the stage for what promises to be a thrilling and successful competitive season. As they dive into the season that lies ahead, the team remains focused on its mission to instill a love for the sport of swimming, foster strong friendships, and achieve excellence in the water.
For more information about the DCY Swim Team and its upcoming events, please visit www.DoorCountyYMCA.org or contact Mike McHugh at mmchugh@doorcountyyca.org.
The Door County YMCA: For Youth Development, Healthy Living and Social Responsibility. Driven by its founding mission, the Door County YMCA has 150 full and part-time staff serving over 10,106 members in Door County from facilities in Fish Creek and Sturgeon Bay in a broad range of programming for all ages. The Y empowers everyone, no matter who they are or where they're from, by ensuring access to resources, relationships and opportunities for all to learn, grow and thrive. By bringing together people from different backgrounds, perspectives, and generations, the Y's goal is to improve overall health and well-being, ignite youth empowerment and demonstrate the importance of connections in and across 10,000 communities nationwide.