DCY Swim Team Sends Record Number of Swimmers To State Meet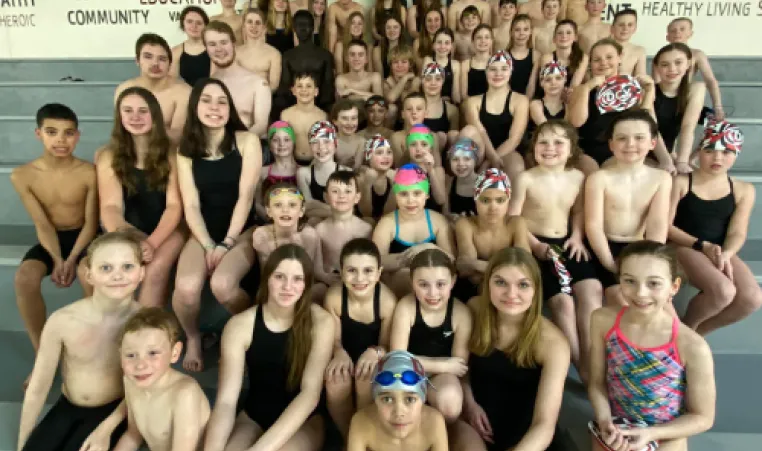 Sturgeon Bay, WI - A record number of DCY Swimmers competed at the Wisconsin YMCA State Championships this past weekend in Brown Deer, WI, with fantastic individual and relay results. 64 DCY swimmers, ranging in age from 8 to 18,  swam in the 3 day event against 22 teams from Ys around the state. Overall, the boys team was leading the entire meet until the last event, where 2 teams edged us out. The top 3 boys teams' scores were separated by a mere 33 points with 186 events swam throughout the 3 day meet. It was an incredible accomplishment for our boy's team to be so close! Our nine and ten year old boys and girls led the way, becoming state champions in their age division! Our 8-Under age group was 2nd overall, for both boys and girls. These results show how dynamic our younger swimmers are at the state level. Despite having a smaller team, our girl's team placed 6th overall, and our DCY team placed 6th combined! Congratulations to all of our DCY Swimmers on a great season!
State Champions
Jack Monfils, 13-14 Mens 200 Breastroke, 400 Individual Medley. 
Daylia Sund, 13-14 Womens 100 Breastroke, 200 Breastroke. 
Nadia Kurek, 8-Under girls 100 freestyle. 
Michael Hoernke, 7-Under 100 freestyle. 
State Champion Relays:
9-10 Boys 200 FREE RELAY and 200 MEDLEY RELAY: Odin Deviley, Derek Kratcha, Aiden Schley, Landon Reinhardt. 
State Runner Up (2ND Place)
Max Aleksandrowicz, 8-Under boys 25 back. 
Nadia Kurek, 8-Under girls 50 free and 50 back. 
Landon Reinhardt, 9-10 boys 50 breastroke, 200 Ind Medley. 
Aiden Schley, 9-10 boys 50 butterfly, 100 Ind. Medley. 
Zofia Michalski, 9-10 girls 100 back. 
Reese Sund, 11-12 boys 100 yard Ind. Medley, 50 breastroke. 
Jack Nonfils,13-14 girls 200 Ind. Medley. 
Christiana Braun, 15-open girls 400 Ind. Medley. 
State Runner-up Relays: 
15 Open Boys 800 yard Free Relay: Colton Blackley, Thomas Kratcha, Jack Monfils, Logan Filar 
15 Open Girls 800 yard Free Relay: Christiana Braun, Julia Michalski, Cassie Rankin, Sanya Wienke 
9-10 Girls 200 yard Medley: Relay Ashlyn Sixel, Avery Hanson, Zofia Michalski, Gwen Preis 
9-10 Girls 200 yard Free Relay :Ashlyn Sixel, Avery Hanson, Zofia Michalski, Gwen Preis 
High Points 
Girls 
Nadia Kurek 75 
Daylia Sund 67 
Christiana Braun 62 
Zofia Michalski 60 
Harper Jennerjohn 42 
Boys
Reese Sund 71 
Landon Reinhardt 70 
Aiden Schley 68 
Jack Monfils 68
 Leo Mathews 52
The Door County YMCA: For Youth Development, Healthy Living and Social Responsibility. Driven by its founding mission, the Door County YMCA has 170 full and part-time staff serving over 9,400 members in Door County from facilities in Fish Creek and Sturgeon Bay in a broad range of programming for all ages. The Y empowers everyone, no matter who they are or where they're from, by ensuring access to resources, relationships, and opportunities for all to learn, grow and thrive. By bringing together people from different backgrounds, perspectives, and generations, the Y's goal is to improve overall health and well-being, ignite youth empowerment and demonstrate the importance of connections in and across 10,000 communities nationwide.