Magnificent Member Milestone Reached: 10,000+ Strong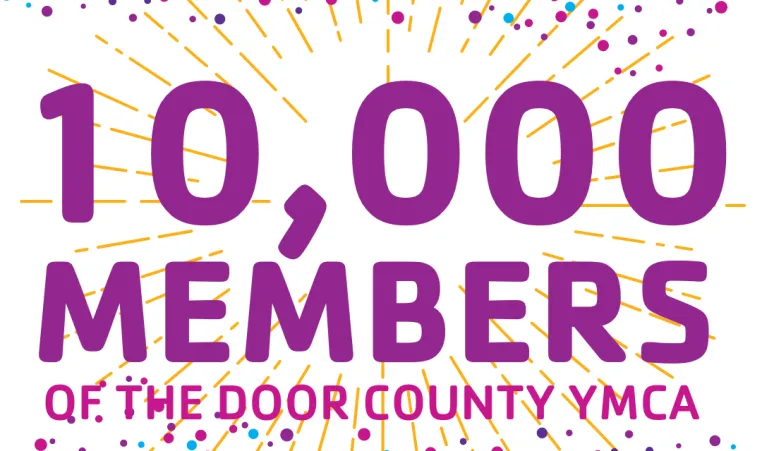 Sturgeon Bay, WI – The Door County YMCA is thrilled to announce a significant achievement as it reaches a remarkable milestone of 10,000 members. This noteworthy accomplishment reflects the strong sense of community, dedication, and unwavering support received by the YMCA in Door County.
Over the years, the Door County YMCA has become a beacon of health, wellness, and inclusivity, providing a wide range of programs and services to individuals of all ages, backgrounds, and abilities. This milestone is a testament to the impact the YMCA has made in the lives of thousands of people throughout the community.
The Door County YMCA offers a diverse array of activities and initiatives that promote physical fitness, mental well-being, and social engagement. From state-of-the-art fitness facilities, group exercise classes, and swimming pools to youth development programs, summer camps, and senior activities, the YMCA strives to cater to the diverse needs and interests of its members.
"This achievement of reaching 10,000 members is a remarkable testament to the Door County community's trust and belief in the YMCA's mission," said Tonya Felhofer, CEO of Door County YMCA. "We are deeply grateful to our members, staff, volunteers, and community partners for their unwavering support, dedication, and commitment to creating a healthy, thriving community."
As the Door County YMCA moves forward, it remains committed to its mission of strengthening the foundations of the community through youth development, healthy living, and social responsibility. The organization will continue to evolve, grow, and find new ways to meet the ever-changing needs of the community it serves.
The Door County YMCA: For Youth Development, Healthy Living and Social Responsibility. Driven by its founding mission, the Door County YMCA has 170 full and part-time staff serving 10,000 members in Door County from facilities in Fish Creek and Sturgeon Bay in a broad range of programming for all ages. The Y empowers everyone, no matter who they are or where they're from, by ensuring access to resources, relationships, and opportunities for all to learn, grow and thrive. By bringing together people from different backgrounds, perspectives, and generations, the Y's goal is to improve overall health and well-being, ignite youth empowerment and demonstrate the importance of connections in and across 10,000 communities nationwide.