New Gift Greatly Impacts "Heart of the Community" Capital Campaign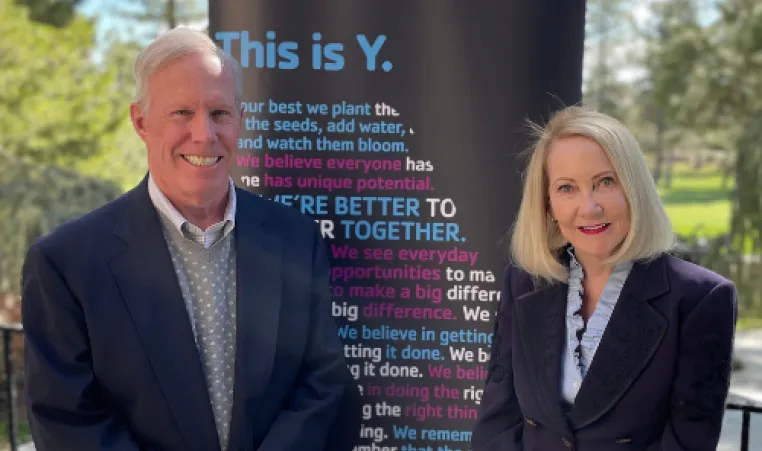 The Door County Y is excited to announce a very generous gift of $2 million dollars from Jackie and Steve Kane. 
Having made a previous commitment to this project, Jackie and Steve were saddened to hear that due to increased material costs, the timeline of this project needed to be adjusted. They felt strongly about keeping this project on track and truly stepped up to the challenge. Their additional gift ensures the Door County Y is able to continue to provide a vibrant gathering space where friendships flourish, children are nurtured, and people grow stronger in mind, body, and spirit. 
Jackie has been serving on the Door County Y Board of Directors for five years and was instrumental in guiding the organization through a comprehensive, organizational model redesign in 2017. Additionally, Jackie plays an active role and is a key leader with the Y's Endowment Board of Trustees. Jackie says, "We believe in investing in institutions that prepare the community for the future. Giving of my time, talent, and treasure is incredibly meaningful and fulfilling to me. I'm so happy to be able to do this for the Y!" 
Jackie and Steve Kane are seasonal residents of Door County. They have been very philanthropic in our community and have supported many non-profits including, but not limited to, Third Avenue PlayWorks and Birch Creek Music Performance Center. Having lived and served in various communities across the country, Steve says, "The reach the Door County Y has in the community is greater than any other I have seen.  I believe it is the most successful Y in the country."
"This gift allows us to complete the full vision and scope of this project", says CEO Heidi Erickson, "Including, but not limited to; social gathering spaces, an expanded wellness center, new youth activity center, kitchen, outdoor classroom, and increased accessibility for people of all ages and abilities." 
This gift benefits the Y and the Door County Community:
We are able to respond to the changing needs of today's families and adults, while planning for the future.
We can continue to create opportunities for education and connection for people of all ages.
More space enables us to deepen our relationships with other local organizations, offering more programs for youth, families and adults seeking healthier lifestyles.
"This incredibly generous gift gets us closer to reaching our goal" says Capital Campaign Chair, Tom Beerntsen.  "We are focused on completing this project in its entirety and with that will be looking to the community to help us finish this campaign."

Pledges and gifts to date have raised $8.8 million dollars leaving $1.1 million dollars to be raised through community pledges and gifts. The Capital Campaign committee, along with CEO, Heidi Erickson, know this goal is within reach.
CEO Heidi Erickson says, "We are so humbled and honored by the pledges and gifts received thus far.  Our donors have instilled their faith and trust in us to serve this community for generations to come."
The Door County YMCA: For Youth Development, Healthy Living and Social Responsibility. Driven by its founding mission, the Door County YMCA has 170 full and part-time staff serving over 8,400 members in Door County from facilities in Fish Creek and Sturgeon Bay in a broad range of programming for all ages. The Y empowers everyone, no matter who they are or where they're from, by ensuring access to resources, relationships and opportunities for all to learn, grow and thrive. By bringing together people from different backgrounds, perspectives, and generations, the Y's goal is to improve overall health and well-being, ignite youth empowerment and demonstrate the importance of connections in and across 10,000 communities nationwide.