Pat Hellen Golf Outing Raises Funds for Youth Programs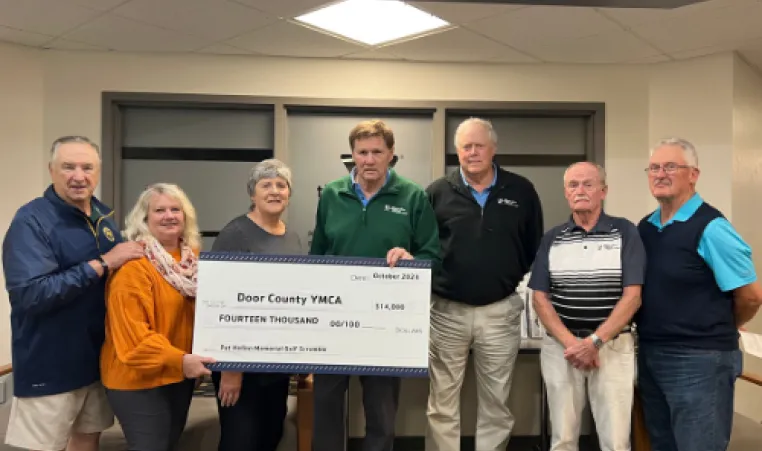 Fish Creek, WI – On September 12, 2023, golf enthusiasts and community members joined forces for the annual Pat Hellen Golf Outing, a fun-filled day of golf and charity. This year's event was held at Maxwelton Braes and successfully raised $14,000 to support the Door County YMCA Youth Programs.
The Pat Hellen Golf Outing, now in its 4th year, has become a beloved tradition in the Door County community, combining a day of sporting excellence with a commitment to nurturing the youth of our community. With participants, sponsors, and volunteers coming together, this event continues to make a significant impact on the lives of children in need. The tournament featured a full day of golf, complete with contests, and prizes. It was a testament to the community's dedication to giving back and promoting the overall well-being of our youth.
Proceeds from the Pat Hellen Golf Outing are being directed toward the Door County YMCA Youth Programs, which play a crucial role in supporting our young community members' physical, mental, and social development. The YMCA's mission to build strong, confident, and compassionate youth aligns perfectly with the values of the golf outing.
"We are thrilled with the success of this year's Pat Hellen Golf Outing," said Holly Butenhoff, Door County YMCA Kane Center Executive, one of the event organizers. "The support we received from sponsors, participants, and volunteers allowed us to raise funds that will make a positive impact on the lives of local children. It's heartwarming to see our community come together to invest in our future generation."
This event wouldn't have been possible without the generous support of Mr. Mark Murphy, the entire team at Maxwelton Braes Golf Course, and all of our sponsors. Their contributions ensure that the funds raised will make a lasting difference in the lives of young people in Door County.
The organizers extend their gratitude to all those who participated, sponsored, volunteered, and supported the event. They are already looking forward to next year's Pat Hellen Golf Outing, where they hope to continue making a meaningful difference in the community.
The Door County YMCA: For Youth Development, Healthy Living and Social Responsibility. Driven by its founding mission, the Door County YMCA has 170 full and part-time staff serving over 10,250 members in Door County from facilities in Fish Creek and Sturgeon Bay in a broad range of programming for all ages. The Y empowers everyone, no matter who they are or where they're from, by ensuring access to resources, relationships, and opportunities for all to learn, grow and thrive. By bringing together people from different backgrounds, perspectives, and generations, the Y's goal is to improve overall health and well-being, ignite youth empowerment, and demonstrate the importance of connections in and across 10,000 communities nationwide.