Safety Around Water Emphasized During May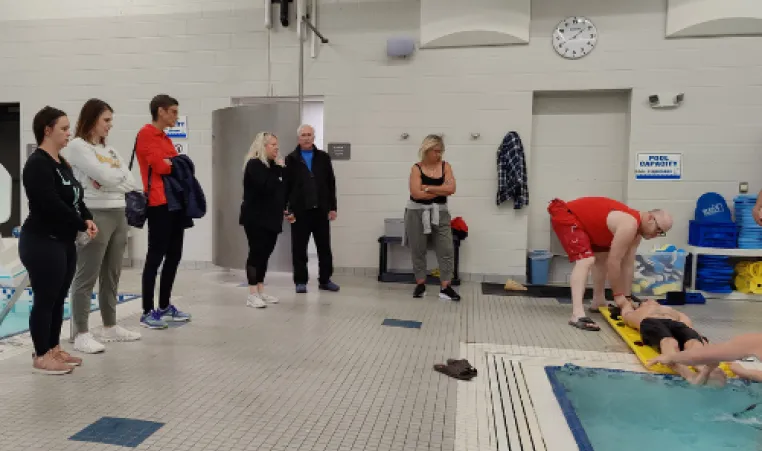 Door County, WI - The Door County YMCA is proud to announce May Safety Around Water Month! This program is designed to promote water safety and help prevent drowning, a leading cause of injury-related deaths among children.
The YMCA is committed to ensuring that everyone, regardless of age or skill level, has access to essential water safety skills. Safety Around Water provides swim lessons to children and families and offers affordable swim lessons to all children & adults in the community. The program also teaches parents and caregivers about water safety, including the importance of constant supervision, proper use of life jackets, and knowing CPR.
According to the Centers for Disease Control and Prevention, drowning is the leading cause of injury-related death among children aged 1-4 and the second leading cause among children aged 5-14. Research shows that swim lessons can reduce the risk of drowning by 88 percent among children aged 1-4.
"We are committed to ensuring that every child in our community has access to swim lessons and water safety education," said Tonya Felhofer, CEO of the Door
County YMCA. "We believe that by providing these essential skills, we can help prevent drowning and promote lifelong fitness and wellness".
The Safety Around Water program is supported by generous donations from community partners and individuals who share the YMCA's commitment to water safety.
To learn more about the Safety Around Water program or to register for swim lessons, please visit www.DoorCountyYMCA.org or contact 920.743.4949 or 920.868.3660.

The Door County YMCA: For Youth Development, Healthy Living and Social Responsibility. Driven by its founding mission, the Door County YMCA has 150 full and part-time staff serving over 9,300 members in Door County from facilities in Fish Creek and Sturgeon Bay in a broad range of programming for all ages. The Y empowers everyone, no matter who they are or where they're from, by ensuring access to resources, relationships and opportunities for all to learn, grow and thrive. By bringing together people from different backgrounds, perspectives, and generations, the Y's goal is to improve overall health and well-being, ignite youth empowerment and demonstrate the importance of connections in and across 10,000 communities nationwide.