Striver Gymnasts Tumble to Victory at Season Opener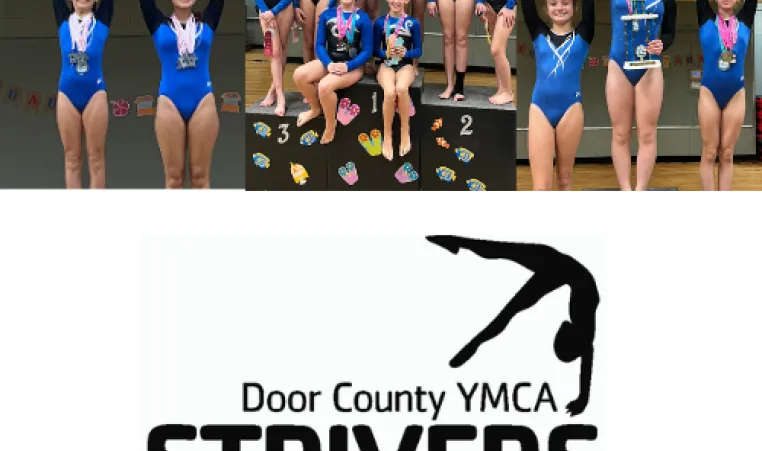 Sturgeon Bay, WI - The Door County YMCA Striver Gymnastic Team kicked off their 2023-2024 season this past weekend in Manitowoc, Wisconsin. The Striver Team competed in the eight-team Manitowoc "Luau" Invitational meet.
The Striver Silver team returned to competition this season with three new gymnasts added to the squad. The girls were ready to continue their pursuit of giving 100 percent to their performances. Kicking off the competition was Brinley Newton, a first-year competitor for the Striver team, she officially began the 23-24 season stepping onto the floor exercise. The team followed competing on floor, bars, beam and vault. The girls supported and cheered for one another as they performed their event routines.
When the final results were announced, the Striver's Silver Team ended up winning the Silver Team division with a total Team score of 111.75.  Individually, the team captured 21 individual medals. Medaling in the 11 and under age group were:  Ellie Kelsey first in the All Around (37.00) and first on bars. Ellie placed second on floor and beam. Brinley Newton placed fourth in the All Around, bars, beam and floor and seventh on vault. Delaney Allen earned second on floor, third on beam, and fifth in the All Around. In the 12 and up age group Lauren Gaida won first the All Around (37.55), beam and vault, second on bars, and third on floor. Sawyer Soukup first on floor and beam, she earned second in the All Around, and fourth on bars and vault.
Keira Clark: first on floor, second in the All Around, third on beam, sixth on bars and eighth on vault. Evelynn Kelsey earned second on floor, fourth in All Around, fifth on vault and sixth on bars. Greta Virgin earned second on beam, fourth on floor and seventh in the All Around.
Platinum gymnast, Shaylyn Asher and Ann Gallardo Ibarra swept the Platinum division. Shaylyn won the All Around (34.35) floor and beam and earned a second on bars. Anna won bars and captured silver on vault, beam and All Around.
Level Seven gymnasts grabbed a Bronze Team Trophy (103.7) and 10 individual medals between three girls on the Level 7 team. In the 14 and under age group, Estelle Duerst earned second in the All Around (34.50) and bars, third on beam and fifth on vault. Amira Anschutz was third on vault and sixth on beam. In the 15 and over Age group Portia Hah won the All Around (35.20) and beam, third on bars and sixth on vault.
The Striver Team is off to a great start in the 2023-2024 season. The girls will compete next weekend in the Heart of the Valley Invitation in Kimberly, WI.
The Door County YMCA: For Youth Development, Healthy Living and Social Responsibility. Driven by its founding mission, the Door County YMCA has 170 full and part-time staff serving over 10,242 members in Door County from facilities in Fish Creek and Sturgeon Bay in a broad range of programming for all ages. The Y empowers everyone, no matter who they are or where they're from, by ensuring access to resources, relationships, and opportunities for all to learn, grow and thrive. By bringing together people from different backgrounds, perspectives, and generations, the Y's goal is to improve overall health and well-being, ignite youth empowerment and demonstrate the importance of connections in and across 10,000 communities nationwide.