Strivers' Asher Selected as Recipient of Ellie Helm Spirit Award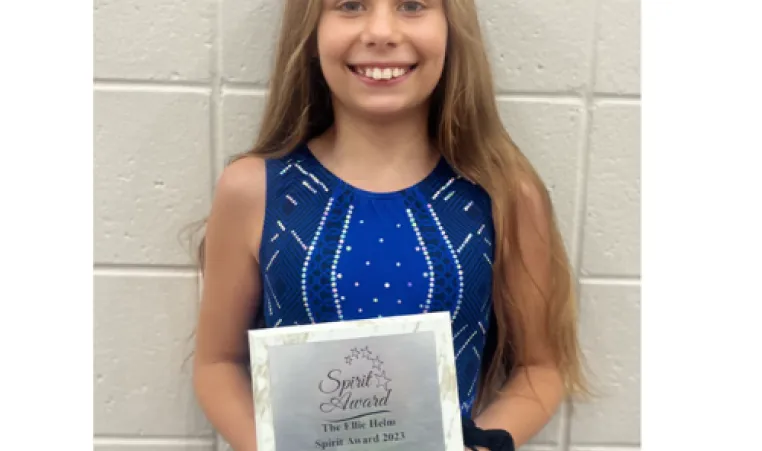 The YMCA Striver's Gymnastics Team awarded the fifth Annual Ellie Helm Spirit Award at their 2022-2023 team banquet. The Ellie Helm Spirit Award stands for Sportsmanship, Positivity, Inspiration, Respect, Integrity and Teamwork. Six characteristics that so rightly described Ellie Helm.
Ellie was a long-time Striver Gymnast who won numerous individual, State, and National Medals for the Striver Team. Ellie was a Gibraltar graduate and she attended The University of North Dakota. Ellie participated on the U.N.D. cheerleading squad. On September 29, 2017 Ellie lost her life suddenly and tragically in an ATV accident. At that moment the world lost an amazing young woman. Ellie brought so much joy to everyone who crossed her path.
The Ellie Helm "SPIRIT" Award is given to a Striver Gymnast who exemplifies and encapsulates Ellie's kind spirit, her compassion for the sport and her teammates, and most importantly exhibits the characteristics that define the Spirit Award. The recipient receives a plaque with the Spirit Award Characteristics engraved on it, she receives her National fees paid and she is given spending money to purchase something nice for herself.
The 2022-2023 Ellie Helm "SPIRIT" Award recipient is Shaylyn Asher.
Shaylyn is the daughter of Cally and Mike Asher of Sturgeon Bay, WI. Shaylyn is a sixth grade student at Sevastopol Middle School. Shaylyn has been on the Striver's Gymnastic Team for seven seasons and currently competes in the Xcel Platinum Level. Shaylyn presents herself with a positive-contagious energy, she has a brave and bold spirit, and she gives 100 percent to every practice.
Shaylyn is kind, compassionate, and considerate to her teammates. She is encouraging, supportive, and diligent. Recipients for the award are determined by a coaches unanimous vote.
The YMCA Striver Gymnastic Team is honored to congratulate Shaylyn Asher as the 2022-2023 Ellie Helm "SPIRIT" Award Recipient!
Past recipients of the "SPIRIT" Award are:                                     
2017 – 2018 Desiree Guilette                                                                        
2018 - 2019 Abi Tooley                                                   
2019 - 2020 Amira Anschutz                                                               
2020 - 2021 Miya Eliyha                                                      
2021 - 2022 Alexa Jimenes-Seyfer                                     
2022 - 2023 Shaylyn Asher
The Door County YMCA: For Youth Development, Healthy Living and Social Responsibility. Driven by its founding mission, the Door County YMCA has 150 full and part-time staff serving over 10,250 members in Door County from facilities in Fish Creek and Sturgeon Bay in a broad range of programming for all ages. The Y empowers everyone, no matter who they are or where they're from, by ensuring access to resources, relationships, and opportunities for all to learn, grow and thrive. By bringing together people from different backgrounds, perspectives, and generations, the Y's goal is to improve overall health and well-being, ignite youth empowerment and demonstrate the importance of connections in and across 10,000 communities nationwide.