Strivers Gymnasts Radiant at Sheboygan Sunshine Meet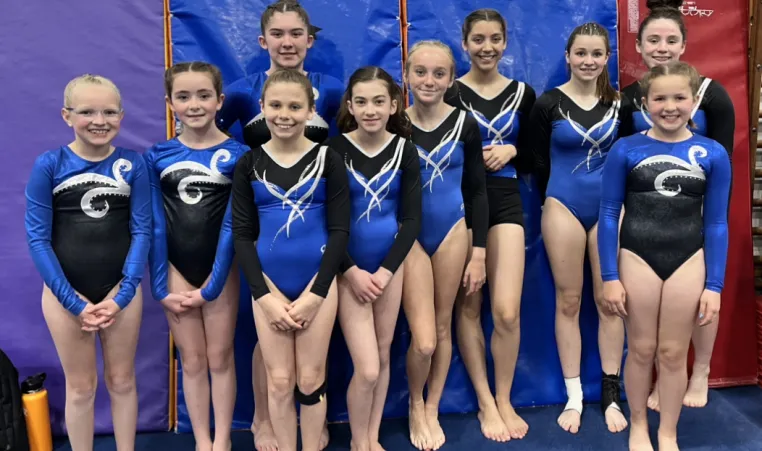 The Door County YMCA Striver Gymnastic Team competed in the Sheboygan Sunshine Meet this past Sunday at the Sheboygan County YMCA. 
The Striver Level 6 Team took first place at the meet. Medaling for the Team were Amira Anschutz who placed first on floor, beam and All Around. Amira placed second on vault and bars. Teammate Estelle Duerst placed third on vault and second on beam. Portia Hah placed third on beam.
The Excel Platinum had Shaylyn Asher placing first on beam, bars and the All Around. Teammate Alexa Jimenez-Seyfer placed first on floor and vault.
Striver Excel Silver Team placed first. Lauren Gaida placed first on vault, bars and the All Around. Lauren placed second on beam.
The Striver Team will be heading to the YMCA of the USA 2023 Gymnastic Championships the week of June 21-25. All sixteen Striver Gymnasts qualified for the competition. Eleven girls have chosen to make the trip to Cincinnati, Ohio.
The Striver Team is coached by Nikki Pollman, Gerritt DeJonge, and Heather Haese.
The Door County YMCA: For Youth Development, Healthy Living and Social Responsibility. Driven by its founding mission, the Door County YMCA has 160 full and part-time staff serving over 9,700 members in Door County from facilities in Fish Creek and Sturgeon Bay in a broad range of programming for all ages. The Y empowers everyone, no matter who they are or where they're from, by ensuring access to resources, relationships, and opportunities for all to learn, grow and thrive. By bringing together people from different backgrounds, perspectives, and generations, the Y's goal is to improve overall health and well-being, ignite youth empowerment and demonstrate the importance of connections in and across 10,000 communities nationwide.