Strivers Gymnasts Vault To National Titles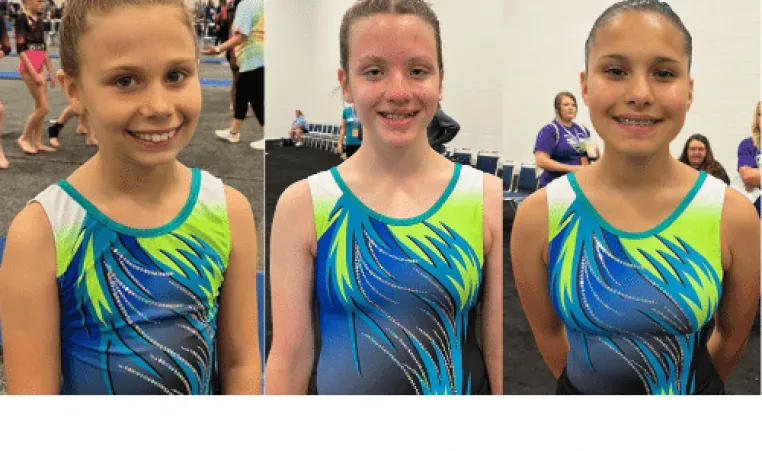 Three Door County YMCA gymnasts won National Titles at the 2022 YMCA National Gymnastics Championships held in Toledo, Ohio June 21-26. 
Shaylyn Asher, Silver Excel gymnast in the child division captured her title on the vault with a score of 9.25. Amelia Zoschke, Excel Gold gymnast in the Junior A division captured the Floor title with a score 9.5. Teammate Anna Gallardo-Ibarra in the Junior B division earned her title on floor with a score of 9.4. 
Zoschke grabbed silver on the vault with an 8.9, and earned silver in the All Around with a 36.75 out of a possible 40 points. She also received bronze on the Balance Beam with a 9.3. Asher acquired a silver in the All-Around scoring 36.25.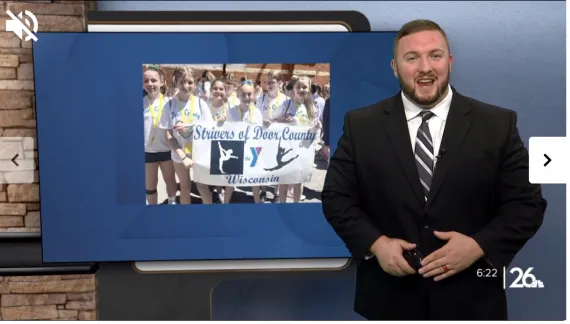 Ten Striver gymnasts made the journey to Toledo after qualifying throughout the competition season. The team came home with a total of 25 top ten performances. The girls represented Wisconsin and the Door County YMCA exhibiting all four core values of "caring, respect, responsibility and honesty." 
Placing in the Top Ten for the Door County YMCA Striver team were:
Shaylyn Asher(Child Excel Silver- 1st vault, 2nd AA, 4th bars, 8th floor and beam (tie)
Evelynn Kelsey (Jr. A) Excel Silver-  4th vault(tie)
Keira Wesley (Senior) Excel Silver-  10th vault(tie)
Shylee Asher (Jr. B) Excel Gold- 6th bars, 10th floor
Portia Hah (Jr. B) Excel Gold-  3rd floor, 8th bars
Anna Gallardo-Ibarra (Jr. B) Excel Gold- 1st floor, 5th bars and vault (tie), 6th AA
Amelia Zoschke (Jr. A) Excel Gold- 1st floor, 2nd AA and vault, 3rd beam, 5th bars
Estelle Duerst (Child) Level 6- 7th floor (tie), 8th beam (tie)
Amira Anschutz (Jr. A) Level 6- 4th floor, 7th vault (tie), 8th bars (tie) 
The Striver Gymnastics Team is coached by Nikki Pollman, Gerritt DeJonge and Heather Haese.      
The Door County YMCA: For Youth Development, Healthy Living and Social Responsibility. Driven by its founding mission, the Door County YMCA has 150 full and part-time staff serving over 8,800 members in Door County from facilities in Fish Creek and Sturgeon Bay in a broad range of programming for all ages. The Y empowers everyone, no matter who they are or where they're from, by ensuring access to resources, relationships, and opportunities for all to learn, grow and thrive. By bringing together people from different backgrounds, perspectives, and generations, the Y's goal is to improve overall health and well-being, ignite youth empowerment and demonstrate the importance of connections in and across 10,000 communities nationwide.