Swim Team Rings in New Season With Unique Tradition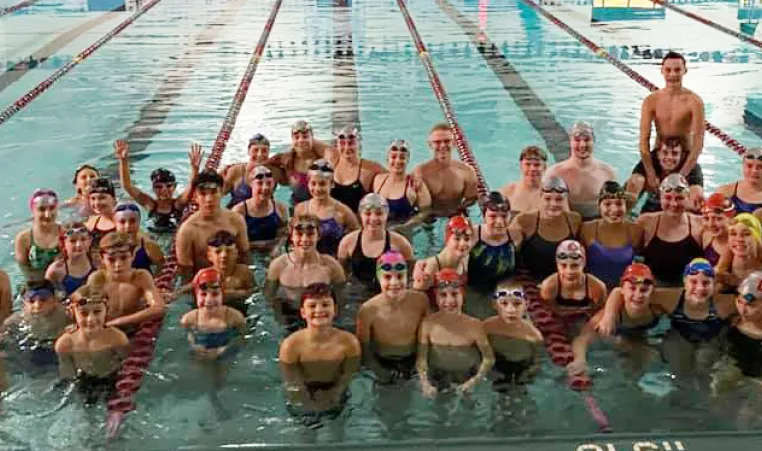 The DCY Swim Team continues a new and special tradition as they host their 2nd Annual Midnight Swim Practice beginning Saturday, October 29th at 11pm at the Door County YMCA.
Swimmers, coaches, and parents are excited to see the return of the Midnight Swim which officially kicks off their 2022-2023 season. The team consists of approx. 130 young athletes ranging from 6-18 years old. Besides a full practice, the event includes music, glow sticks, high energy foods, and games for the swimmers including a greased pumpkin relay.
"The Midnight Swim Practice was inspired by some of the bigger programs on the East Coast, like New Jersey," said DCY Head Coach Mike McHugh. "It's a first of its kind in this area, something unique; another tradition that we have added to our program."
The team has set an exceptionally high standard for competitive swimming for several years. Last season, DCY SWIM named six State Champions, placed 4th as a team at the State Championship Meet, and qualified 3 National swimmers! DCY has seen 32 swimmers receive Division 1 and 2 athletic scholarships over the years, adding several swimmers recently. Three recent DCY graduating seniors signed onto D1 universities, including two who received athletic scholarships.
Another DCY alum, Max McHugh, Coach McHugh's son, is the current NCAA D1 Champion for the 100 Breaststroke, 2nd in the nation in 200 yard breaststroke, and was a finalist in the 2021 Olympic Trials in the 100 meter breaststroke. This will be his last year competing for the Univ. of Minnesota swim program.
The 2nd Annual DCY Midnight Swim Practice will take place Sat. Oct. 29 - Sun. Oct. 30, beginning at 11pm, at the Carla and Ellsworth Peterson Aquatics Center at the Door County YMCA. The event will be closed to the general public, but open to registered DCY swimmers, their families, as well as the press.  The Door County YMCA - Sturgeon Bay Program Center is located at 1900 Michigan Street, Sturgeon Bay, WI 54235. For more information, please visit www.teamunify.com/team/widcy/page/home or contact DCY Head Coach Mike McHugh at (920) 743-4949. 
The Door County YMCA: For Youth Development, Healthy Living and Social Responsibility. Driven by its founding mission, the Door County YMCA has 150 full and part-time staff serving over 8,800 members in Door County from facilities in Fish Creek and Sturgeon Bay in a broad range of programming for all ages. The Y empowers everyone, no matter who they are or where they're from, by ensuring access to resources, relationships and opportunities for all to learn, grow and thrive. By bringing together people from different backgrounds, perspectives, and generations, the Y's goal is to improve overall health and well-being, ignite youth empowerment and demonstrate the importance of connections in and across 10,000 communities nationwide.