Another Million Dollar Gift Elevates Capital Campaign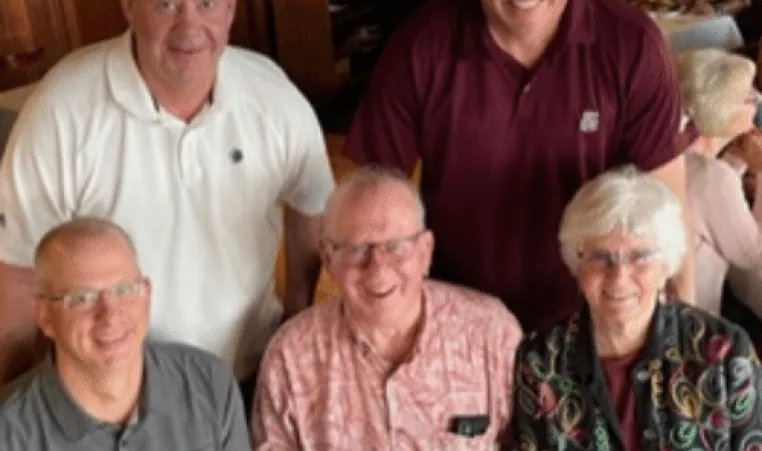 Photo Credit: Bunning Family. The Bunning Family; back row: Steve and Dave. front row: Mike, Jim and Barb
Imagine walking 44 laps around the same track several times a week for 23 years (though less than 44 in most recent years), racking up roughly 150,000 laps, or about 13,000 miles. That's what Jim Bunning has done at the indoor track at the Sturgeon Bay Y. "All of these laps and miles have kept my dad healthy and moving, allowing him to still hunt and fish with his friends and my brothers and me into his 80s", says Dave Bunning, one of Jim's three sons, "And our mom, Barb, has spent countless hours taking exercise classes, which really encouraged our dad to keep up."
The Y's impact on the health and well-being of both of Dave's parents inspired Denise and Dave Bunning, through their Sunshine Charitable Foundation, to gift $1,000,000 to the Heart of the Community Capital Campaign (the "Campaign").  The Campaign will revitalize the Sturgeon Bay Program Center and create purposeful spaces to provide an environment that allows the community to grow, connect, and thrive. "We wanted to give back to an organization and a community that has been and will continue to be such a big part of our lives", said Denise. "When we learned about this capital project that would enhance how the Y serves both young and old alike in the Sturgeon Bay community, we really wanted to be a part of it", continued Dave.
"When Dave and Denise approached us with their story and wanted to help with a donation, we were thrilled", says CEO Heidi Erickson, "but then they wanted to take things a step further and leverage the gift from their foundation to help us raise the final dollars needed for this Campaign."
A portion of the donation is funding the $500,000 community challenge that the Y announced earlier this summer which has created a lot of buzz and excitement. "This challenge has certainly encouraged others to support the project", says Campaign co-chair Tom Beerntsen, "but we're not done yet!"  The Door County YMCA has raised over $9.6 million dollars of an expected $10.3 million dollars needed to achieve the goals of the Campaign, leaving a $650,000 gap that the Y is still actively seeking to raise. Co-chair, Penny Beerntsen sums it up best, "We're very excited to be so close to finishing the Campaign which will provide an amazing facility that can be enjoyed by our community for decades to come!  Every dollar we raise truly counts and we believe that we will have a strong finish to this Campaign."
The Door County YMCA: For Youth Development, Healthy Living and Social Responsibility. Driven by its founding mission, the Door County YMCA has 170 full and part-time staff serving over 8,800 members in Door County from facilities in Fish Creek and Sturgeon Bay in a broad range of programming for all ages. The Y empowers everyone, no matter who they are or where they're from, by ensuring access to resources, relationships, and opportunities for all to learn, grow and thrive. By bringing together people from different backgrounds, perspectives, and generations, the Y's goal is to improve overall health and well-being, ignite youth empowerment and demonstrate the importance of connections in and across 10,000 communities nationwide.